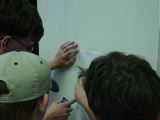 The computer spat out player matchups according to age group: 10 and under, 11-14, and 15 and up.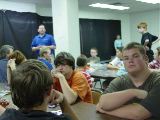 Prokémon Professor Tymon Martindae, or Gym Leader Blaine, explains some of the new R/S rule changes before the first round.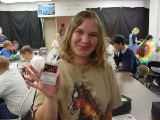 Leah Gallina (18) poses with her pride and joy--the stunning Aerodactyl ex.
The professors (smartly) brought a computer laptop and printer with them to do all of the match setups with special software designed for swiss tournaments. Before each match was to begin, a printout was taped to the wall that announced everyone's opponents and which table the matches would take place. (At the end of each match, the computer tabulated your win-loss ratio and the win-loss ratio of your opponents to calculate your overall rank. What cool software!)
MATCH 1 - 11:30
For the first round, I was set against one of the ladies I asked directions of a few hours before. We were both new to the Ruby and Sapphire additional / changed rules, but were patient with each other. (I wish I could remember the details...I should've taken notes of some sort.) Anyway, in the end I won after a slow-paced but close match.
LUNCH - 12:00
The professors kicked everyone out of the room. My sister and I sat down at a table in the food court area and ate our sack lunches. (If I hadn't bought all of Rob's cards, I would have been able to afford Arby's for the both of us...oh, well.) At this point I was a little cocky about winning match 1, though I knew that there were four rounds to go. (I had big dreams about getting first prize: a booster box of 36 packs!) After we were done we sat down in front of the door (the professors wouldn't unlock the door until 12:30) where just about everyone else gathered to wait.
MATCH 2 - 12:30
I played against a Gardevoir ex deck and lost in about 2 turns because I ran out of Basics (my Natu died versus his Ralts and Kirlia, as well as a half-full Bench). To be sporting, my opponent said we could go two out of three. (Whew!) And though my Arcanine and Arbok won the second, my lone Skitty caused me to lose the third. (How sad! It's not like I was running low Basics in my deck, either.) The first of several losses to deflate my big head.
MATCH 3 - 1:00
I can't remember the details, except that a Kabutops ex caused me trouble--until my Wynaut evolved to Wobbuffet, whom I used as a stall until I could coordinate some alternate form of attack. (All it succeeded in doing was let my opponent gather up some stronger stuff to kill Wobbuffet.) This match resulted in a loss, too. At this point, the idea of me winning first place was looking a little unrealistic, and I resolved myself to the fact that I might just have to be satisfied eighth place instead. Ha ha.
MATCH 4 - 1:30
I lost this one, too! It was soooo traumatic I can't remember what happened. Wah.
MATCH 5 - 2:00
Huh? My opponent is Rob? Whoa, that's funny. Anyway, after a very close match I pulled ahead and took my last prize card first, making my total points a pathetic 6/18. Hmm. Not bad for my first tourny in 4 years.